Under the advanced options menu are a number of settings you can use to control the behavior of TaskTask across all of the accounts you have configured.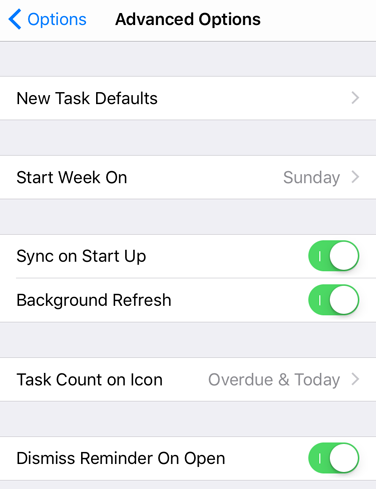 | Option | Description |
| --- | --- |
| New Task Defaults | Specify the default values for all new tasks created in TaskTask |
| Start Week On | Change the first day of the week for the calendar view |
| Sync on Start Up | Control if TaskTask synchronizes changes for your accounts each time the app is launched |
| Background Refresh | Enable or disable TaskTask requesting background cycles to keep your task list up to date |
| Task Count on Icon | Control if and how an icon badge is displayed for TaskTask |
| Dismiss Reminder On Open | Enable or disable the automatic dismissal of a task reminder when opening the task |
New task defaults
Configure the default values used when creating a new task in TaskTask. You can choose the default values for due and start dates, apply a default category or importance, and choose whether a reminder is automatically created.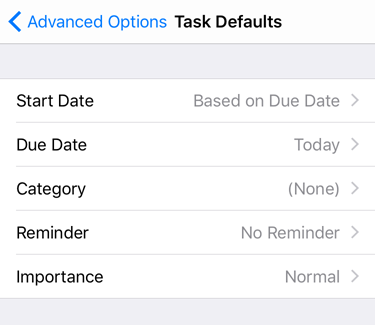 Start Week On
Configure whether the week starts on Sunday or Monday (or any other day of the week) based on your preference. This only alters how the calendar is displayed.
Sync on Start Up and Background Refresh
These two options control how TaskTask works to stay up to date with changes made to your tasks from Outlook or other programs. Sync on Start Up will automatically start updating changes from your account when you launch the app. If you switch off this option, you will need to press the Refresh button before TaskTask will pick up changes in your account.
By default TaskTask will request permission to operate in the background while you are using other programs. This helps ensure TaskTask is always immediately up-to-date with any changes made in other programs but uses additional energy. You can disable this feature by switching off Background Refresh.
Note: Background refresh may not result in your task list being always up to date. The feature depends on a number of factors like network connection, remaining battery capacity, and the operating system scheduling TaskTask to run.
Task Count On Icon
This setting allows you to configure whether or not TaskTask displays a count of tasks due today on the icon. This can be configured to show:
No count
Count of tasks due today
Count of tasks due today and tasks overdue
Dismiss Reminder On Open
This setting controls if TaskTask will automatically dismiss the reminder on a task when you open it from the reminder alert. Sometimes you may not want the reminder automatically disabled, for example if you are using the reminders window in Outlook as a form of task list.